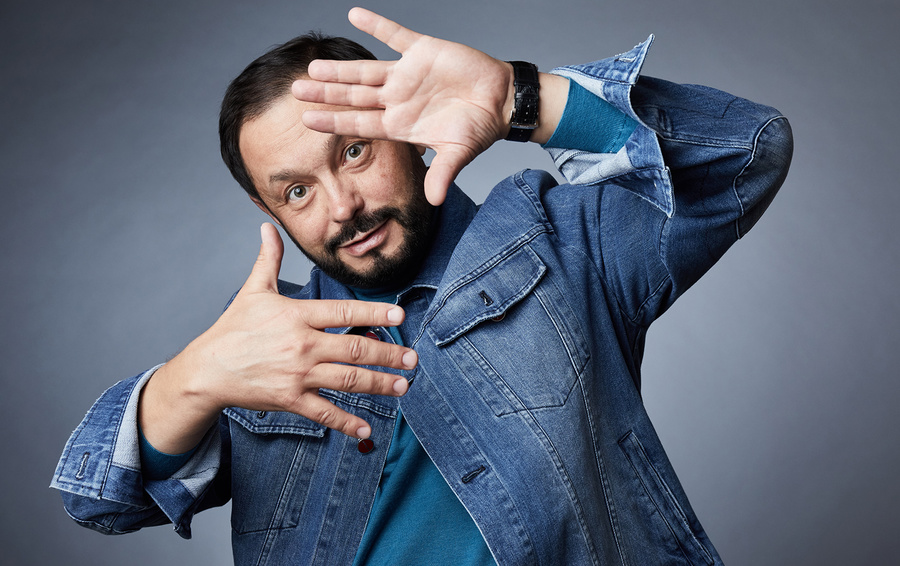 BILLIONAIRE GLEB FETISOV TO TALK ABOUT COMEDY AS A COMMERCIAL PRODUCT, PROBLEMS OF THE RUSSIAN FILM INDUSTRY, AND WHY THE DEATH OF CINEMAS AND BIG MOVIES IS GREATLY EXAGGERATED.
You have been in business for a long time, you are a Doctor of Economics and a Corresponding Member of the Russian Academy of Sciences, it seems you had quite different interests for many years. Why would a successful businessman, investor and scientist go into big movie business and become a producer?
I have loved movies since my childhood. As soon as I realized myself as an individual when I was about four years old, I fell in love with movies. Later on, films for children were replaced by cowboy movies for teenage boys, adventure and historical movie novels, romantic stories. And, of course, exciting action movies with Jackie Chan, Arnold Schwarzenegger, Sylvester Stallone. That is all part of the experience.
But, like any ordinary person, I preferred comedy the most. However, at that time I could not even imagine that comedy is the most complex genre in the cinema (which, by the way, is recognized by all world-class professionals). Many viewers do not realize this, believing that comedy is so easy to make! In fact, it is much easier to make the audience cry. It is easier to cause tears of grief or adoration than sincere laughter. I was raised on Soviet and foreign comedies with Pierre Richard, Jimmy Kerry. Inspired by them, I had a dream since my childhood to make comedy movies. So my first movies were two comedies. Some Like It Cold, a Russian film, was released in February 2014. The second movie was released in May of the same year: it was Chef (in Russia it was released under the name Shef na Kolyosakh, "A Chef on Wheels"), directed by John Favreaux and starring Robert Downey, Jr., Dustin Hoffmann, Scarlett Johansson and Sophia Vergara.
Such light films with a happy ending are needed in Russia. All foreigners say we are not smiling, we are always frowning. At the same time, our favorite genre is a joke. That is a paradox. "On the surface – terrible, yet they're good inside…" Remember that song from The Diamond Arm? That is we, that is our country… By the way, this is the secret of wide popularity of comedies by Leonid Gaidai – The Diamond Arm, Kidnapping, Caucasian Style, Shurik's Adventures.
These are the kind of light, enchanting and at the same time smart, heartful movies that our viewers need. The deficit needs to be compensated. It is a law of market, including the film market. The unfortunate experience of the 1990s and the 2000s has shown that Russians do not want to see on the screen what is already haunting them in reality. The hopeless darkness which the Russian directors were producing at that time was of no interest to anyone but foreigners. Our audience has not changed its principles: it still wants to see such experiences, emotions, feelings that it lacks in reality. Its demands are the same.
In this respect, I am also not much different from the average viewer. My production of serious epic dramas coincided with a hard period in my life. It was a crisis after a crisis: another downturn in the economy that affected the business and my health needed to be improved. Therefore, the choice was partly due to personal experiences and worldviews at that time. But I hope that the clouds will part, which is prophesied by the first big comedy Girls Differ, released in October in wide distribution (on 1100 screens at the same time). Now we are planning a second hilarious story to please the audience. But I do not want to talk about it in detail: if you want to make God laugh, tell everyone about your plans.
Cinema production: to what extent is it a business for you, and to what extent is it support of cultural projects, patronage?
Support for many Russian cultural initiatives and investment in them remains at the level of patronage. But I see movies as a business. Furthermore, a comedy product can only be commercial, otherwise there is no point in doing it. Not only did we manage to recoup the costs of Some Like It Cold but also made profit of it. We invested in Chef, another project that we produced together with Sergei Bespalov in 2013, $16 million. In America, it grossed $31 million and the global gross was $46 million.
What hinders the development of the film industry in Russia?
First of all, there are very few screens in Russia, and the number of commercial cinemas in Russia barely exceeds 4000. The USA offers its viewers more than 30,000 screens, even in the Soviet Union there were about 28,000-29,000 screens.
If you at least double the number of Russian cinemas, there will be a chance that auteur cinema will also become commercial. Another factor is, of course, improving the living standards of the population. From my point of view, only commercial approach will allow the industry as a whole to develop faster. Otherwise, the film industry will always depend on the economic cycle, on whether our patrons make a profit or incur a loss. In hard times, no one wants to finance knowingly unprofitable projects.
What challenges do you face in Russian and the USA as a producer, what is the difference in mentality, approaches to film-making?
Russia has great potential, that is great actors, wonderful directors.
But the situation with producers is very bad: unlike Hollywood, here they do not understand the finances and do not see the process of making a film as a business project but immediately look for sponsors for it. No one is even trying to count the money.
If we enter an American project, we risk losing a maximum of 30% of the budget if the film fails completely. And with success, on average, about 30% of the profitability of the business plan is laid down. That is, the investor can get at least 30 cents for every dollar invested. Both losses and profits are easily calculated. And in case of success ROI (return on investment) can be 50%, and 100%, and 150%, as in the case of Titanic or Avatar.
In Russia, I have never seen any company where marketing is structured properly. Yes, of course, there can be a professional approach to the selection of directors, casting, but I do not see any calculations and business models that accompany the projects in domestic cinema.
This attitude is becoming a major deterrent for investors, as it is useless to speak to them in the language of creative concepts, in the language of plot, cast and skill. Their faith must be strengthened by numbers. I never look for patrons myself. For all commercial projects, I find partners with whom I can earn money.
But you have worked not only with commercial products, but also with art cinema, which is generally not created for the purpose of profiting.
When it comes to creation of festival films, I speak honestly about the scale of potential losses, being aware of its inevitability. My financial resources allow me to treat auteur cinema as the engine of world cinema. There is an opportunity to support the ideas that I would like to convey to the Russian and foreign audience.
It is not possible to say that I am guided by commercial purposes in auteur cinema yet. But what I never do is exceeding the budget.
Loveless, The Duelist, Sobibor, Viy 2: Journey to China are films created for completely different audiences, each with a different message. What are your guidelines for selecting projects?
I am proud of all the projects I have been involved in. Of course, I still have internal questions and issues with them, I would like to improve something both in the past and future projects. If I like the plot and design, if my inner voice predicts the response of the viewer, I enter the project. I have an instinct for that. But, like any other businessman, I am sure the company should have a specialization. Fetisoff Illusion specializes in comedies, where the story and lack of vulgarity are important.
But both Loveless and The Duelist are dramatic, if not tragic, movies.
In Loveless I was struck by its scenario and the fact that it touches upon a deep problem of modern society, lack of love towards one another. After its first night, I received phone calls from viewers and was told how they stood for a long time hugging a tree, contemplating and rethinking their whole lives. They understood how wrong they were towards their loved ones and how important it was to raise and nurture the sense of love in yourself.
The choice of The Duelist is related to my background. I am sure everyone has the right and the duty to defend their honor. The Duelist is all about that. Honor is the most important thing that a person has in his or her life if he or she expects to be accepted as part of society. Unfortunately, the mass media, not only in Russia but also abroad, seek to diminish human dignity. With this movie, I did my part to show you that you ought to fight for your honor.
Viy 2: Journey to China is a different story. This is a fairy tale, the first large-scale international project with the involvement of Hollywood stars, coproducts, important for the promotion of the Russian cinema.
Why did you support Sobibor? Why did you like that idea?
This is one of those rare stories that leave no one indifferent wherever they live: in Russia, America, the European Union, Israel… It is when reality surpasses any, even the most daring fantasies. After all, the British were the first to shoot this story for a good reason, in 1987 they released their Escape from Sobibor, a joint project with the Yugoslavs. However, it was a TV movie.
And went directly to making it a feature film, knowing that the scale of the story is not limited to the TV screen. And that people will go to the cinema to feel those emotions that they want to experience not on their own at home, but together with other spectators. They will go to feel the team spirit and mutual support, which is all of us lack catastrophically.
Movie production is also an opportunity to broadcast messages to a large audience.
Yes, I feel this return, it creates additional impulses and an important stimulus in my life.
As a producer, how much control do you have over the film production processes?
We have decided to enter only those projects where we have full control, we do not consider offers where we are just partners or co-investors.
The emergence of new video formats, streaming video services HBO, Netflix, competing with Hollywood, prompts the entire film industry to change. How do you react to these changes?
Life does not stand still, and the more funds and services are raised to promote film and television production, the more quality movies will be produced. The main thing is for these movies to find their viewers, and if it involves such powerful institutions as Netflix, Facebook or Amazon, Google, it is great.
Now there are a lot of new enterprises and in Russia: for example, online cinemas. MTS will create a structure that will deal with production and distribution of video content. It will be called MTS Media, Kinopoisk has its own online cinema, there is also Ivi, Okko. Yes, we do not have many cinemas, but how can we increase the number of cinemas if the online services outcompete the offline viewing and a lot of products are created exclusively for online cinemas? Don't you think offline cinemas are a dying branch of the evolution of cinema?
The death of cinemas and big movies is greatly exaggerated. Remember the movie Moscow Does Not Believe In Tears, where one of the characters, a cameraman, believes that television will put an end to the film industry. Several decades have passed since then, and nothing happened, the two branches get along well with each other, both cinema and television.
People are attracted to offline cinemas by the opportunity to experience strong and vivid emotions here and now, and only for 1.5-2 hours. The formats change – 2D, 3D, IMAX – but in fact everything remains the same: the feeling that it is all happening to you, not just on the big screen. You experience, survive and come out with a feeling of complete satisfaction, if the film is made well.
Neither the TV nor the smartphone can convey this feeling.
Then again… all the flowers should be blossoming: both big movie stories and TV novels. One of our projects is a TV series based on the novel Tiergarten by Georgy Zotov. If the series succeeds, we will make another feature film. Many outstanding films, whether on television or in the cinema, are based on beautiful original literary material. It is very important for the producer to read. In 2017, I became a trustee of the Russian Booker literary prize, and we would like to attract the best Russian fiction writers to work on film scripts.
Which directors would you like to work with?
I do not have any problems with cooperation with any director both in Russia and abroad. Only with the top ten, and then, perhaps, the main problem will be to align our timetables. We have the wrong idea of a director in Russia, all our movies are director movies. I do not deny that the director makes a huge contribution to the creation of the product. But few people understand that Oscar for the best film is given not to the director, but to the producer. It is because the producer finds the director, negotiates with him, takes an active part in the development of the script, casting, makes the calculations, pulls up funding.
The United States have the resources to make film projects cost-effective, make them attract outstanding filmmakers. Talented people of the creative profession can be counted on one hand but if there is no budget, it is unlikely that they will suddenly be sparked by the proposed scenario or idea.
After all, the main measure of success in business is money. No matter how beautiful your script may be in itself, a Hollywood star or a great director may just not find the time to read it. But if you as a producer attract the necessary financial resources, collect the budget, everything else becomes a matter of creativity, inspiration and a little bit of luck.